The Best Surf Wax Reviewed by The Inertia featuring YEW! Surf Wax
Wax is probably the most overlooked part of any surf setup. Surfers look at board shapes, fin templates, and even traction pad choices to explain why they aren't ripping as hard as they think they should be. Wax is barely an afterthought. Most of us only think of it when it feels like our feet are slipping off the board, if we think of it at all.
I used to be a firm believer that one should never pay for wax if one can avoid it. I would let my wax sit for too long and keep applying wax on top of wax until my board looked like some mashup of a bizarre Jackson Pollock original and poorly laid concrete. But, if there's anything I've learned from testing and looking for the best wax, it's that a fresh coat of wax does wonders. It might even be the next best thing to riding a new board. Something about it makes the board feel more responsive and faster.
When you give your board a fresh coat, you want to make sure you're working with the best wax out there. With so many options to choose from, it can be tricky knowing which wax is best. But, I've taken it on to try as many as I could find so you can know which is best.
A few notes about how I tested every wax. Each wax got one surf in mostly cold water. I didn't use any base coat, just straight wax. I used the same wax comb to strip each wax, and if one wax was particularly difficult to strip I made a note of that. Otherwise, I went off of my overall feeling while surfing to judge each wax.
What Is The Best Surf Wax?
5. Kassia's Palo Santo Surf Wax
7. YEW! Your Environment's Wax
9. Matunas Eco-Friendly Surf Wax
10. OAM (On A Mission) Surf Wax
11. Sister Betsy's Surf Wax Eucalyptus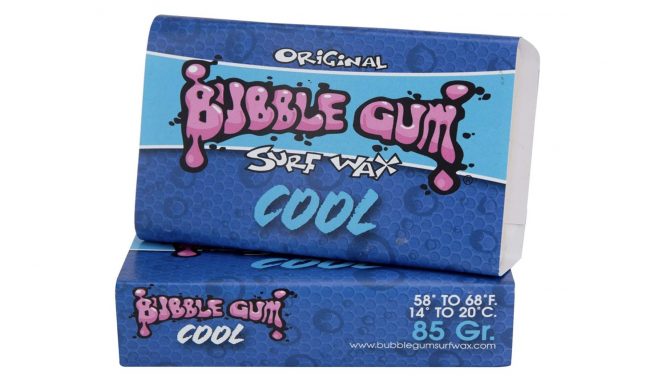 Cost: $3.00
Stickiness: Very Sticky
Application: Easier
Smell: Bubblegum
When you're looking for a wax, you want something that goes on easily, feels sticky, and smells good. Bubble Gum easily checks all the boxes. This wax went on the board probably the easiest of all the waxes I tested. It bumped up almost immediately and didn't take much effort on my part. It was also instantly sticky. I know it's mostly feeling, but I felt like I could surf more aggressively and confidently with it. I think that's all anyone can want out of a bar of wax.
I do wish that this wax didn't come in the wrap that it has. It breaks into two parts and I pretty much used one half instantly so storing it isn't too bad. Though Bubble Gum is a tad more expensive than some of the cheaper options, I think it's worth the extra dollar or so for a solid wax.
Buy Bubble Gum Cold Wax here, Cool Wax here, Warm Wax here, and Tropical Wax here.
Cost: $5.00
Stickiness: Extremely Sticky
Application: Very Easy
Smell: Freshly Detailed Car?
I've heard Fu Wax hyped up for a while now. The supposed Brazilian wonder wax that really sticks. The first thing I noticed was that Fu Wax is expensive. Like twice the cost of any other wax and it smells like car detailing wax. But, it's the real deal. It goes on very easily and is immediately very sticky. It also seemed to get stickier the longer my session went on, which none of the other waxes seemed to do.
Fu Wax is solid, don't get me wrong. But there's definitely some downsides besides the weird smell. It probably has the worst packaging for storing since it comes in a little plastic bag that you have to rip open. It's also hard to understand the temperature ranges as the naming seems pretty esoteric. I used "Summer Cool" in water temps in the low 60s. It seemed fine, but I have no idea if the temperature was way off for the ideal use or not. It's just hard to tell what the temperature range is supposed to be since there aren't any numbers on the packaging. Additionally, it gets everywhere, sticks to everything, and needs to be re-applied often.
Buy Fu Wax (all temperatures) here.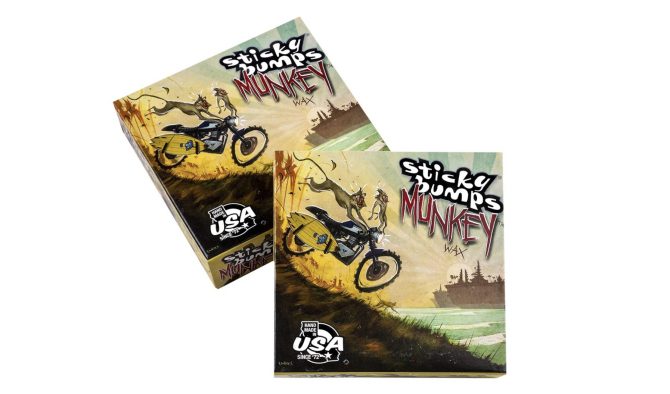 Before this, I had no idea that there were other kinds of Sticky Bumps formulas out there. The Sticky Bumps Munkey wax seems like Sticky Bumps' response to the criticism that their wax isn't sticky enough, and this wax is advertised as being five times stickier than the regular Sticky Bumps Formula. Munkey is plenty sticky to the point that it seems like this stuff wants to stick to anything and everything around it, so be careful where you store this wax.
I found Sticky Bumps Munkey to be really easy to put on a board. It didn't flake up at all and a little bit of wax seemed to go a long way. While surfing, I had a few waves where I was surprised that I didn't slip off my board which is always a good thing when looking at waxes. This wax can be tricky to strip, but I think that is worth the grippiness that comes with it.
Buy Sticky Bumps Munkey Cool-Cold here, and Warm-Tropical here.
Cost: $1.80
Stickiness: Very Sticky
Application: Easy
Smell: Coconut
Sex Wax is another one of the OG brands. It definitely deserves its reputation as a go-to wax. It's sticky and goes on fairly easily on any board. It also smells fantastic which is always a plus. Another upside to Sex Wax is the cardboard packaging. It makes this wax easy to store for later and use again without having to worry about getting wax everywhere.
One of the tag lines is "quick bumps for your stick." Trying Sex Wax again though led me to realize that it can be hard to get Sex Wax to bump up on the deck of your board. I put wax on in circles and not a criss-cross pattern, which might be the issue. That being said, the wax is still very grippy. Though, it might be too grippy if you're planning on trunking it in the summer months – I've been prone to gnarly rashes from Sex Wax. The wax comes in a variety of temperatures, with everything from Xtra Cold to Tropical.
Buy Sex Wax (all temperatures) here on Amazon, or here on Jack's Surfboards.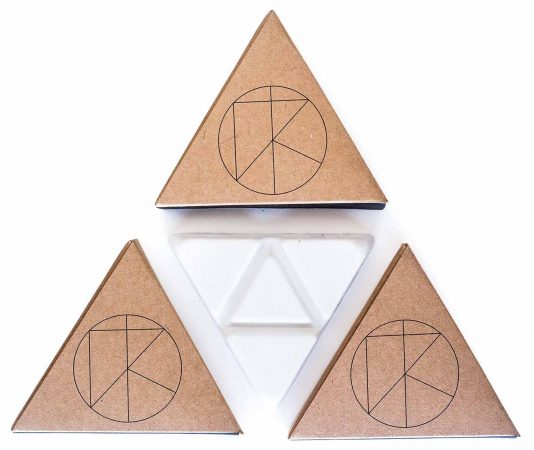 Cost: $6.00
Stickiness: Grippy
Application: Above Average
Smell: Palo Santo
Kassia Meador's wax is made to help you stick to your board, (all the better to crossstep with) and bring good vibes with its natural Palo Santo infusion. "Palo Santo is a tree burned by Shamans and Medicine people for its energy cleansing and healing properties," the description reads. Application is made all the easier with the unique triangular design that allows you to always get a corner and helps each bar last longer. It's pricey, but worth it.
Cost: $3.00
Stickiness: Grippy
Application: Below Average
Smell: Coconut
This was the only wax that I tested without a wetsuit. I could only find warm wax so I felt like that meant I needed to not wear a wetsuit even though the water was a little colder than warm. Despite the challenges, there was a lot to like about the FCS wax. The wax seemed sticky enough and I never felt like slipping off. Plus I didn't rash up at all on my chest or stomach which is always a plus. The shape of the wax bar made it easy to hold when applying and easy to put back into the box which was a plus.
This wax was tricky to put on, even with the benefit of the ergonomic bar. At first, it was hard to get the wax to stick to the board. Once it started sticking, the wax wanted to flake. Then, it would goop together making it hard to get an even coat on the board. Avoiding pulling off wax from an area and leaving it bald was tricky at times. More importantly though, I was pleased how this wax performed in the water. And, it was only slightly tricky to strip.
Buy FCS Surf Wax here on Amazon, or Evo.
Cost: $4.99
Stickiness: Grippy
Application: Average
Smell: Beeswax
YEW! is naturally made from beeswax in Manhattan Beach, CA. The golden bar of wax is all natural, smells great and applies easily to your board. It's pricey, but when it's your wallet or the environment, the world would be a lot better if we more consistently chose the latter. One thing to note is that it does look yellow instead of the classic surf wax whit, which can look nice when paired with the right resin tint (or look the opposite if not), and cane be a good conversation starter in the water.
Buy here on Amazon, or yewstoked.com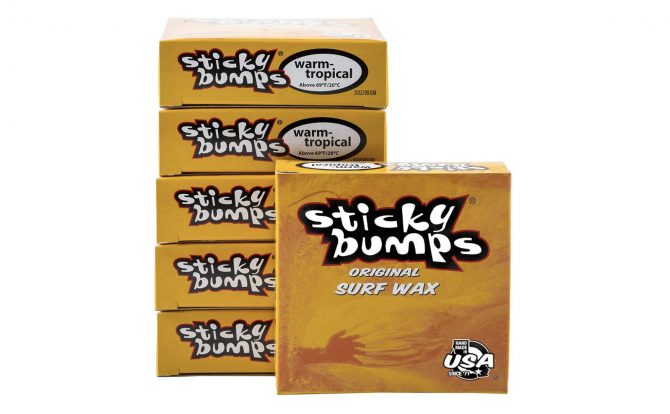 Cost: $1.80
Stickiness: Grippy
Application: Easy
Smell: Sticky Bumps
Sticky Bumps is another OG wax. If you're in a bind, you can probably find Sticky Bumps somewhere and it'll get the job done. One thing that surprised me this time around was how tricky it is to get the wax onto the board. It takes some time to get the wax to stick to the board at first. But once it does, Sticky Bumps is easy to put on and will bump up immediately.
Sticky Bumps is just not a very sticky wax. It feels adequately grippy, but it won't wow you with how much grip you'll feel. That being said, there are times when less stick can be nice like if you're trunking it or don't want to get your new suit all waxy. Though I never noticed a lack of grippiness, I did notice that it wasn't as sticky as some of the other choices on this list. One cool thing to note is that Sticky Bumps also makes a softboard wax which is meant to apply easier to a foam surface and comes in cool-cold and warm-tropical.
Buy Sticky Bumps here on Amazon or here on Evo, and find the Softboard Formula here.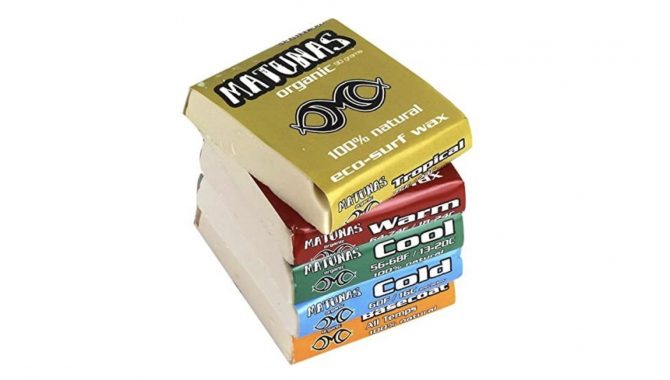 Cost: $1.95
Stickiness: Slippery
Application: Tricky
Smell: N/A
I was excited to try this wax since it's biodegradable and seemed like it would be a good one. Finding Matunas ended up being a huge hassle though. I tried like five different shops and once I found some, it looked like the bars had been sitting there since the nineties. Definitely not the strongest impression.
The biggest thing that I noticed about Matunas was that it felt very malleable and soft. It was like the bar had partially melted in my car on the way to the beach. It went onto my board melty. Even in cold water, the wax felt soft and seemed like it was ready to slip. Under my feet, Matunas performed a little better, but it still was much softer than I prefer. I could feel my feet slide through the wax which is never what you want.
So, if you're looking for something that you can feel good about using, there's Matunas. If you're looking for a wax to push your surfing with, there are other waxes out there.
Buy Matunas Surf Wax (all temperatures) here.
Cost: $2.00
Stickiness: Not Very
Application: Average
Smell: Coconut
On A Mission is better known for their other surf accessories and for good reason. Their wax is nothing special. It bumps up pretty quickly but that's about all this wax has going for it. My first impression was that it wasn't very sticky, but, fortunately, it ended up being grippier than I feared. This wax also wasn't the easiest to get on the board at first either. It's not a wax that you can really cake on. And, if you find a better wax, stripping the OAM wax is going to be a pain.
Maybe if you are somewhere tropical, this wax would be a good choice. Like if you found yourself alone on a desert island with a sick break and needed anything. In a situation like that, not being able to strip the wax might even be a virtue. But otherwise, I'd pass on OAM's wax.
Cost: $1.80
Stickiness: Not Very (Like a candle)
Application: Difficult
Smell: Eucalyptus
The first thing I noticed about Sister Betsy's Surf Wax was that it felt more like a candle than other surf waxes. Unfortunately, this wax didn't get much better from there. It went on with difficulty. This wax didn't seem to want to come off the bar. When it did, the wax would flake and stick together so you ended up pulling it off the board instead of putting it on. It felt slick when I put it on and it didn't really bump up at all.
I tried all kinds of tricks to scratch Sister Betsy's up to make it feel more grippy, but it just didn't have much grip to it. To be fair, I used this wax at the very cold end of the recommended range, so that may have made the wax a little slicker than it otherwise may have been. I never actually slipped off my board, but I noticed that I was focusing on not slipping more than normal.
Sister Betsy's Surf Wax was eucalyptus scented. If you're into eucalyptus, this is probably the best part of the wax. I'm not though. My car and board bag reeked of eucalyptus for days after using this wax. For some that might be a plus but for me it wasn't. If you live near warmer water though, the 'cool' wax also comes in Cherry and the 'warm' wax comes in Mango. Another plus was that this wax was surprisingly sticky to neoprene. So, maybe if you're wearing booties and like the smell of eucalyptus this is the wax for you. For others though, you can probably pass.
Buy Sister Betsy's Cold Wax here, Cool Wax here, and Warm Wax here.
Editor's Note: For more gear reviews and gear features from The Inertia, click here.
---